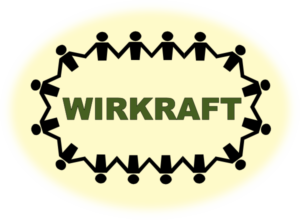 Peaceful prosperity for all is feasible
How does a person arrive at his or her goals in life?
WIRKRAFT is a real plan for peace and prosperity for all people. Play through it beforehand.
We peacefully say NO thank you,
You exploiters and seducers.
We no longer work for you.
We don't buy from you anymore.
We start our own companies.
With better products.
"That I invented the diesel engine is all well and good.
But my main achievement is that I solved the social question."
Rudolf Diesel
WE Citizens
recognize: Together we are strong, together we are free.
preferentially receive jobs and useful products from WIRKRAFT-company
profit directly and indirectly from the profits of the WIRKRAFT-company
Voluntarily participate in the guarantee bank with at least 1 cent per day
Bürgschaftsbank
uses the 1-cent-a-day assets of WIR citizens only for guarantees
Checks business plans for solidarity suitability to the WIRKRAFT-company
gives 100% guarantees for WIRKRAFT-company vis-à-vis investors
controls running WIRKRAFT-companies in accordance with the solidarity rulebook
WIRKRAFT

-company
are cooperatives for useful products and services
generate profits for themselves and the WIRKRAFT as a whole
receive their start-up capital from investors who get repayment and interest back
adhere to the solidarity rules internally and externally
Solidary set of rules
has as its basis the long-lost book of the ingenious inventor Rudolf Diesel
Explains the benefits and the natural cycle of WIRKRAFT
includes detailed contracts and statutes for all parties involved
Ensures protection against corruption and sets people fair incentives