The WIRKRAFT Team in Berlin. Distribution of hundreds of games at various gatherings.
Here we explain the game at Potsdamer Platz, and passers-by are invited to play along.
Along the way, we have provided those interested with the WIRKRAFT idea familiarized.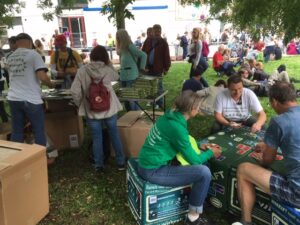 If you have a little patience and then you are in the game, you will always open up new
possibilities, and the outcome of the game always depends on what the other players do.
Have teammates for a strategy.
Unlike Monopoly, a cooperative-based gameplay is often advantageous.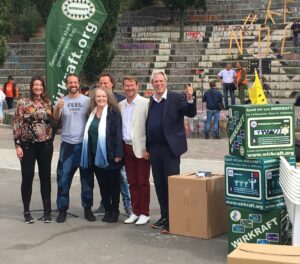 Heiko Schöning, inventor of WIRKRAFT and Vice President of the WorldDoctorsAlliance
welcomes 1st Chair Dolores Cahill and other guests at the WIRKRAFT booth.